Here is one of my favorite meals and ways to eat KALO, commonly known as taro. This is a luau (stew), which I have sped up the process of making with the handy Instant Pot (my main cooking element.) This soup is simple, nourishing, filling and flavorful. Drake showed me this dish and called it "poor man's laulau." I think of it more as "lazy woman's laulau." Instead of taking the time to wrap each laulau individually, we just throw all the ingredients into the pot together and it comes out sooo 'ono. It comes out better tasting than my actual laulau. But it did take some time to perfect this dish. Time and experience has taught me the ideal order of operations, the way to make this soup edible!, meaning all the ingredients are cooked the proper amount of time and the spices shine.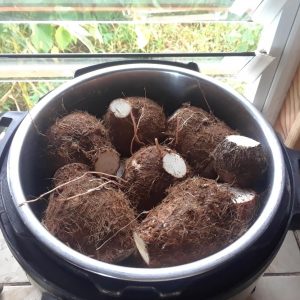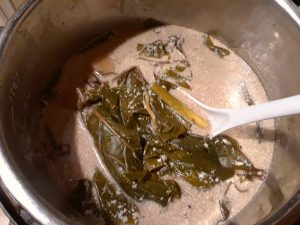 As you may know, if you under cook kalo it will scratch your tongue and throat. This really sucks, you want to avoid this experience at all costs. The scratch is from a crystalline acid known as oxalate, or oxalic acid, which kalo contains an unusually great quantity of. This is one reason you would NEVER want to eat it raw. It's not only advisable to cook your taro long enough to avoid the pain, but to also to lesson the affects of oxalate in the gut. Like other plant toxins and anti-nutrients, oxalic acid will bind to minerals in the gut and hinder their absorption. (So no short cuts! Follow my cooking instructions to the T!) But don't let this oxalic acid scare you away from eating taro. It it well broken down thru the heat of pressure cooking, steaming, boiling or fermenting. I highly recommend the Instant Pot pressure cooker for this job as it will significantly shorten the cook time. Otherwise, who knows, it could take days… You could start checking the pot on the stove every 5 minutes, thinking "Is it done yet?", but with the pressure cooker you just set the time, walk away, and you know that it'll be done when the thing beeps. Another excellent rule with taro is "Cook it once. Cook it twice."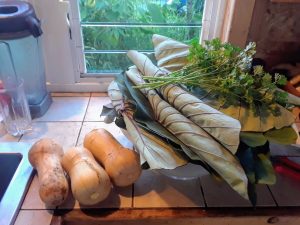 You can make this dish vegetarian or with meat (traditionally we use pork). Both are equally delicious. Sometimes I like to make it a little fancier and add butternut squash or onions. But that's about as complicated as it gets. The beauty of this dish is in its simplicity. You will be surprised at how delicious it is with so few ingredients. Kalo, luau, pork, coconut milk, spices (ginger, turmeric, garlic, lemongrass) and salt is all you need. Truly, the most wonderful thing about this meal though, is that almost all of the ingredients we can grow in our garden. This makes it all the more special. 
What you will need:
1/2 lb (225 grams) cooked kalo leaf
3-5 corms of cooked kalo
3 cups coconut milk
2 cups bone or vegetable broth
6 cloves of garlic
1 large thumb of ginger
1 thumb of turmeric
2 stocks(?) of lemongrass (see picture)
1 Tbsp sea salt
Steps.
Precook kalo (corm and leaf). Steam in the Instant Pot, but cook SEPARATELY. If you steam the corm and leaf together the corm will absorb most of the water and the leaves will still be full of oxalic acid crystals. You want at least 90% of this stuff to be gone from the leaf and corm before you cook it again with the other ingredients. Add a cup of water to the pot. Place the steamer grate in the bottom. Add your leaves or corm and steam 45-60 minutes. I cook leaves for 60, corms for 45.  Most of the time I will cook a large load of the leaf (about 1 pound fits in the pot) and freeze half for later use. Be sure to discard the cooking water and especially DO NOT add it to the soup. (See, I've made every mistake.)
After corm is cooked, cool, peel and cube. Luau should break apart easily and need no cutting.
Ginger and turmeric can be roughly chopped. Garlic peeled and lightly crushed. Lemongrass can be tied with itself (see picture in gallery)
Combine all ingredients to the pot and cook on high pressure for 30 minute
Enjoy with the ones you love! And praise ke Akua