Recently my Korean cooking got a level up. I asked my friend, Rei, how I could better my Korean cuisine and he told me the secrets: hot red pepper flakes, sesame oil, and kimchi: the essentials of most Korean meals.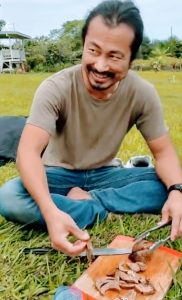 It just so happened that during the last hours of Rei's visit, our dog (for his second time ever) caught a wild pig–a suckling sow. Rei cleaned it in our garden and without haste plopped the whole body of the pig into a pot to boil: muscle, bone, heart, lungs, kidneys and liver. Before his plane to the mainland he would eat pork with us (his favorite food). 
In Korea, eating organs is normal. For Drake and I, it was an initiation of sorts. We'd accidentally eaten intestine soup in Seoul, Korea, at a restaurant when the waiter had misunderstood our order. We'd asked for barbeque and the man had replied, "tang?" "Umm, yea, sure," we replied. We were served slow cooked, gelatine rich stew with noodles and stomach and/or intestines..? It was absolutely delicious till we discovered what was in it, and then something just didn't taste right after that… 
Sitting outside in the grass with Rei, Drake and and our friend Jim, I sampled all the organs voluntarily this time. Rei's favorite, the lungs, were my least favorite. I didn't much care for the liver, either, but the heart and the kidneys were surprisingly good. But the best part of the whole meal, I thought, was the broth that the pig had cooked in. What was it that he had added to it? KIMCHI. Rei told me that if I wanted to make a simple, standard Korean soup all I needed to do was to boil pork (meat, bone, organs) with kimchi and red pepper flakes. That was it. This was the first Korean soup I made after Rei left, using the two back legs of the sow we'd eaten together (minus the organs). 
First Korean Soup Recipe
Ingredients:
3 quarts water

1 1/2 – 2 cup kimchi

2-3 corms kalo (note: kalo has already been cooked once. Pressure steam 45-60 mins separately.)

3 teaspoons red pepper flakes (more or less to your taste)

Meat of your choice
Steps:
First, have your Korean friend kill a pig for you… Just kidding. Obtain your choice of meat however you do; use what is available to you. (What we have on Hawai'i is an abundance of wild pua'a (pig), which if we don't knock back from time to time will ravage our garden. So subsequently we eat a lot of pork.) Preferably meat is still attached to the bone. If you love organs, add the organs.

Place in a pressure cooker or in a pot on the stove. Add water, kimchi, kalo, and red pepper flakes; cover with a lid and cook for 30 minutes. 
And that is it! And it's soo 'ono (tasty). Simple, easy, and fast.
I think the only thing that would make this soup even better would be to slow cook it in a crock pot for 5 or 6 hours. I think this would be healthiest too as the kimchi would probably still retain live probiotics.
After eating this soup you will be left with a bunch of bones. An excellent venture would be to make bone broth. Throw'em all in a crock pot with water and a splash of vinegar. Bring to a boil and then let simmer for 1-3 days. Then you would be ready to make the second soup. Unless you are making a vegetarian version, in which case nix the bone broth. 
Second Korean Soup (the best soup I've ever made!!)
Ingredients:
1 large onion

2 carrots

2 purple sweet potatoes

1 large corm of kalo (precooked, 45-60 mins in pressure cooker separately)

1-2 Tbsp butter

1 Tbsp turmeric powder

¼ tsp black pepper

2 tsp red pepper flakes

1 quart bone broth OR vegetable broth

1 can coconut milk

1 cup kimchi

1-2 Tbsp miso

4-5 cloves garlic

Salt to taste
Steps
Saute chopped onions, carrots, and sweet potato in butter together for 5 mins in a pot

Add turmeric and black pepper. Saute for 10 mins before adding cubed kalo to the mix. Cook together for another 5-7 mins

When veggies are smelling lovely and fragrant add broth, coconut milk and kimchi

When broth is up to temperature stir in miso and allow to cook on medium-low till all your root veggies are nearly done

Taste, add salt if needed

Finally throw in chopped garlic and red pepper flakes and let cook for another 3-5 mins or until soup is "done" by your judgment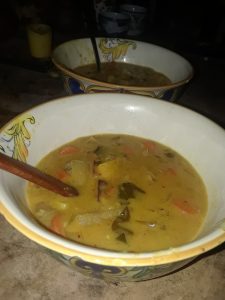 For real, I never made a better soup than this. I KNOW it is the kimchi factor. In the kitchen I was very hesitant at first to put coconut milk and kimchi together in the same soup. In my mind it just didn't sound good. But then my curiosity overcame my fear of cooking failure and I threw them both in the pot. So pleasantly surprised was I! I've never had anything like this soup before! 
A Note on Kimchi
Making kimchi is very easy. The original recipe for kimchi is golden: napa cabbage, carrot, and daikon radish. However, you don't have to use those same veggies if you have the spice blend: red pepper flake powder, ginger and garlic. This is what I feel defines the kimchi recipe and distinguishes it from sauerkraut–or as my uncle Desmon calls it "German kimchi."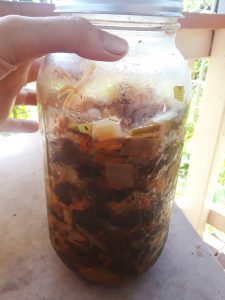 In my last batch of kimchi I used kaichoy (Chinese cabbage), dikon radish and carrot. In my experience the most important thing is not to over salt your batch. Too many times of over salting has taught me to salt on the lighter side. The less salt you use the quicker your veggies will ferment. The more salt, the longer the process takes and the longer your kimchi will lasts. It lasts longer because a) salt is a desiccant, i.e., a preservative, and b) it's not as tasty, so we don't eat it as fast… How much salt is enough and how much is too much? Enough salt added and you can stand to nibble your veggies before you ferment them and it's not overbearingly salty. Too much will taste like TOO MUCH SALT when you sample it. Your kimchi should be slightly less saltier than the ocean before you ferment it. Although my best advice if you have never made kimchi before is to look up a recipe on the internet and follow it perfectly. I don't measure my salt any more. But at one point I looked up a recipe for kimchi, followed it and got a perfect product. Recipes are good. Follow general cooking guidelines long enough and eventually you won't depend on recipes, you'll know how much salt to add, and your creative spirit will take over and spin up the dankest meals!