A couple weeks ago I was at the Hilo farmers market eyeing a large pile of a Hawaiian ferns. I had tried what they call fiddleheads in the Pacific Northwest. To me they had tasted like what I imagine moss to taste like. So up until then I had never ventured to try the Hawaiian variety, assuming all ferns must taste like forest floor. But they looked SO beautiful there on display–long, slender, dark green, and enchantingly curly–that I was spellbound for a couple moments. I remember thinking, will it be worth it if I buy these? Will I like them? Will they make the whole meal taste like moss? 
Fears aside, I love trying new things.
But first, I asked the woman selling, "What do these taste like?"
"Ah.. mm… like asparagus," she replied.
MMM, I like asparagus! I thought. I love asparagus actually, but I never buy it due to a semi-irrational fear of some mainland shipped foods. But these ferns, however, must have been grown here, and potentially in a wild and natural setting. So I bought them. And at that moment I had a rough idea of what I wanted to do with them… Almost anything will taste good if its sauteed in butter with onions and Korean Naturally Farmed pork: the best pork in the world, I am convinced.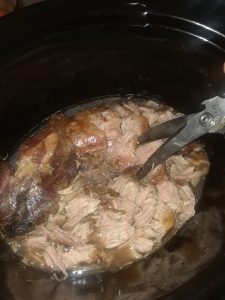 A couple days before I had slow cooked a leg of it and had ended up with a significant amount of drippings, that is, juice and lard. My hope was to make gravy with it, but for several days I hadn't, as I didn't know what to thicken it with. I had some flour on hand, but I am not that into using raw flour of any kind for anything. Eventually it dawned on me… Not more than a five days prior we had completely harvested one of our kalo patches, so we had an abundance kalo on hand! Light bulb. I would use KALO to thicken the gravy. 
Pieces were coming together. I knew what I wanted to throw together. Simply, this dinner consisted of sauteed pork and veggies, lightly finished in homemade teriyaki sauce, on a bed of white rice with gravy. Oh my goodness, this meal was to LIVE FOR! I was very proud of my gravy. 
Stir Fry Ingredients:
1 onion

2 carrots

2 Tbsp butter

½ bundle of Warabi ferns (or roughly equal parts to carrots and onions)

½ cup kalua pork (more or less to your meaty desires)

5 spoonfuls teriyaki sauce
Steps:
Lightly caramelize chopped onions in a pan with butter for 9 mins on medium heat

Add chopped carrots. Let cook together for another 9 mins

Add chopped Warabi ferns. Let saute 5-7 mins

Push veggies to the sides of pan, making space in the center to add kalua pork. Add more oil or butter so that the pork can brown 

On top of that pour 4-8 spoonfuls of homemade teriyaki sauce and let this cook together in the middle for 5 mins before stirring all together

Sprinkle furikake seasoning liberally 
Teriyaki Sauce Recipe 
Ingredients:
2-4 thumbs of ginger

5-7 cloves of garlic

   (

Roughly equal parts ginger and garlic

)

½ cup Shoyu (I like the gluten-free Tamari kine)

¼ cup sweetener i.e., honey, maple syrup, sugar, or a KNF fermented plant juice
Steps:
Grate ginger and garlic with a very fine grater (some folks call this thing a ZESTER…)

Add all ingredients together in a 12oz/half pint jar. Seal with a lid and shake vigorously
Kalo Gravy 
Ingredients:
⅓ cup milk (raw milk, if that is available to you)

1 medium size corm of kalo (pre-cooked)

Salt to taste
Steps:
Combine drippings and milk together in a saucepan, medium low temp to heat up slowly

Either cut your kalo into small pieces or grate it. [If you are using kalo that has sat in the fridge for awhile and gotten dry (like mine) put it back in the steamer and warm it up for a minute or two.] Add kalo to the saucepan and let ingredients simmer together softly

When gravy is up to temperature take an immersion blender and blend till kalo comes smooth. This will take your soupy liquid and give it the voluptuous thickness of true gravy

Taste it and add salt to your liking
~Served over a steaming pile of white rice~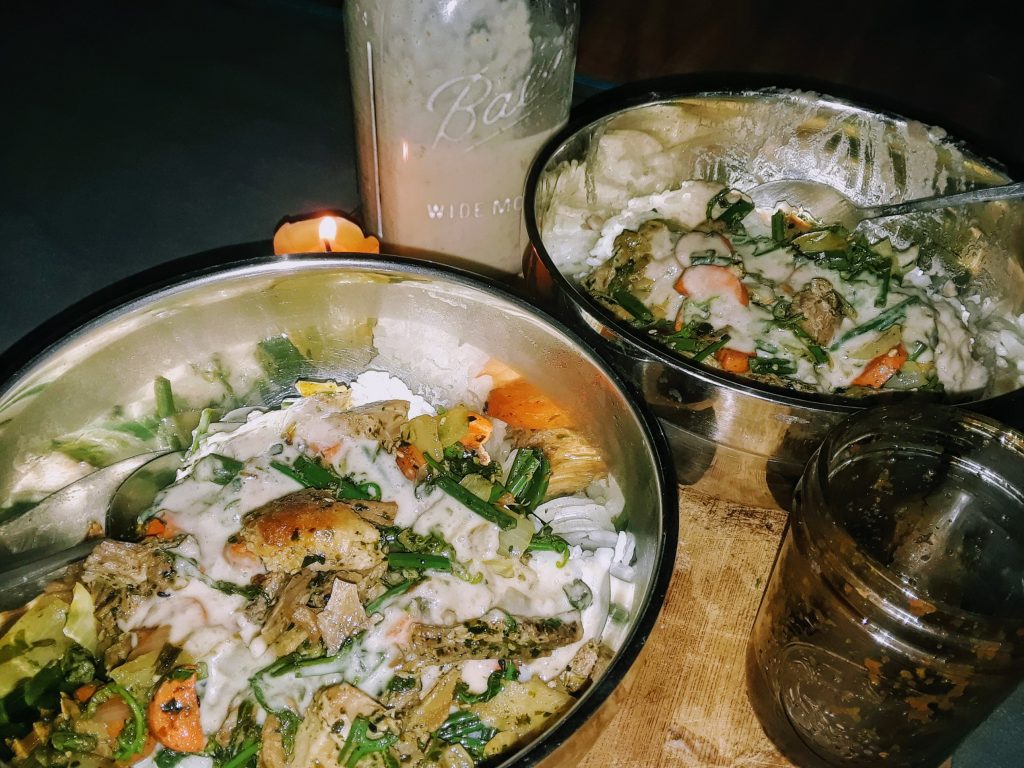 Reflections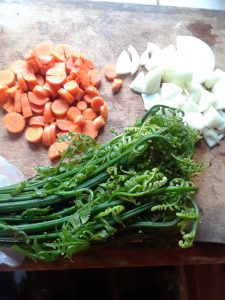 The ferns were delicious, for the record. I am not exactly sure how to describe their flavor, but I will say they aren't overpowering, nor do they taste anything remotely close to PNW forest floor. Small tip: you want to cut off the ends (the part closer to the roots) because they are most tough and fibrous there. The rest is tender, mild in flavor, with a texture similar to that of okra in its sliminess. WHICH I LOVE, personally.
InstantPot
We have this wonderful appliance called an InstantPot. I highly recommend picking one up if you don't have one already. Instead of boiling kalo for 2 to 3 hours on a stove you can pressure cook it for 45 mins to 1 hr, depending on the variety. Much quicker. If you're like us and you don't have a stove, the Instant Pot is your friend. And it's not just good for steaming kalo; it doubles as a frying pan, a rice cooker, a slow cooker and a yogurt maker… Drake cooks really magical eggs in it 🙂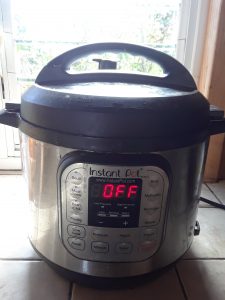 I hope you enjoyed this blog and feel inspired to try out some of these recipes, if not all of them together! Aloha.